Skip to Content
Italian Wedding Plan in Denver, CO
A Magical Day
Wedding Planning in Italy
Italy is globally recognized as one of the most romantic and charming countries to host a wedding. Many of us living in the US, dream of getting engaged, married, or honeymooning in this unique country. Three Tomatoes Italy's mission is to make this dream come true by providing the highest industry standards in destination wedding planning for the high-end American market. Our completely customized and personalized wedding planning model is the ideal service for couples who desire to host their wedding in the framework of a romantic, classic, and fairytale-esque background while being able to rely on professionals with direct knowledge of the Italian territory, culture, cuisine, and wedding venues.
Three Tomatoes Italy is our full-service wedding planning division for couples living in the USA that want to host their wedding in Italy. We serve the entire US market from NYC to LA, and from Chicago to Houston. We specialize in serving the high-end segment of the American market, where high quality and fair price really matters. Attention to detail, assistance, and 24/7 consultation along with personalization and prompt availability are our trademarks. Our ideal clients are couples that have high expectations and value their time and the reliability of a job well-done by professionals with solid experience.
Our wedding planning offices are based in Denver, CO allowing us to be centrally located and in a convenient time zone across the United States. Discretion, professionalism, and a focused approach that leaves no detail to chance, are some of our most important traits. These elements translate during the entire wedding planning process, which is taken care of by our team in Denver, Colorado, as well as the execution onsite in Italy, taken care of by our Italian staff. During the wedding planning process, our couples enjoy the assistance of an American-based firm that is available at any moment and speaks their own language. At the same time, our operational staff is based in Italy with both Italian and international members who know the Italian territory, culture, language, and traditions down to the most intrinsic details, and are used to dealing with Italian industry professionals on a daily basis. Our dual-presence structure makes us quite unique and able to serve the needs of couples expecting reliability, professionalism, competence, elegance and friendliness at the same time. You will be hard-pressed to find another wedding planning agency in the US that is in direct contact with the Italian market, and is as knowledgeable about Italian wedding planning as us.
Navigating the wedding planning process can be an arduous task, especially when faced with an ocean between you and your wedding location. With staff both in the United States and on the ground in Italy, our industry professionals will guide you through the decision making process. We assist our clients in seeing the details that may be overlooked when planning a destination wedding. Marrying abroad will be a once in a lifetime experience.
Our unique organization allows us to know and connect extremely well with both the American market and the Italy wedding-planning industry, bridging between the two and overcoming any possible language and cultural barriers. Our entire staff is extremely proficient and experienced with the dynamic challenges that may arise from working between two different cultures and continents. We are completely knowledgeable of the American standard and expectations domestically and while travelling abroad. At the same time, we are rooted in Italian traditions and capable to translate the American dream into an Italian reality. Our team is comprised of Event Planners and Event Managers with years of experience in the US, in Italy, and across the globe.
As we take pride in ensuring that every aspect of your experience is perfect, we focus on managing every element of your wedding through a selected team of industry professionals. We have built long lasting relationships with some of the most established and reliable vendors in Italy. We can make arrangements for custom invitations and save-the-dates, audio/visual services, florals and décor, security, photographers and videographers, entertainment, event furniture and linen rental, glam services and any other specialty item you may require. The decision making process can be tedious and complex but our team will make sure no detail is missed.
In the early stages of planning, we will help clarify the overall vision of the wedding, realistic timelines, and help anticipate the needs, wants, and desires of your wedding guests. We provide customized solutions and options for all requests all while keeping in mind that a wedding abroad is extremely different than a wedding in your hometown. For starters, transportation and time zones make a big difference in the overall budget of time and money. Our assistance in providing a realistic and reliable wedding budget is paramount in avoiding unwelcome surprises, and instead leaves our couples with a great taste in their mouths once the wedding is done. Your wedding in Italy with us will be magical and picture-worthy.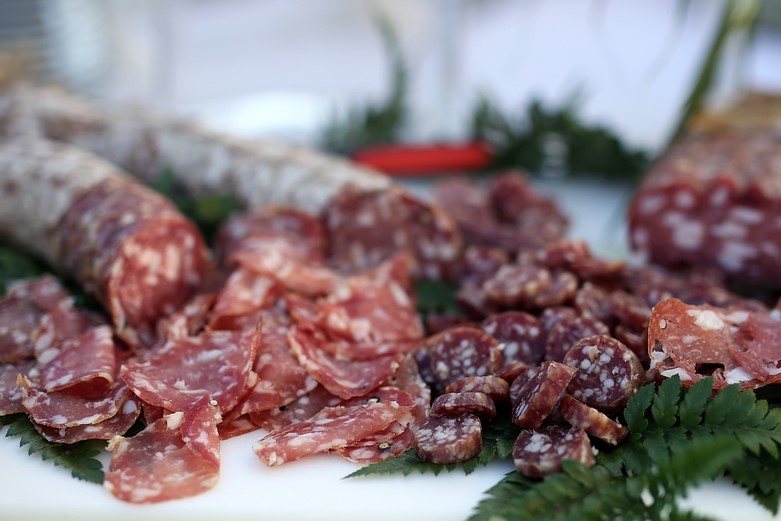 Culinary Experience
As Italy has built a reputation for its flavorful, tasty, and exquisite cuisine, your wedding in this wonderful country would not be complete without enjoying a delectable Italian menu. In Italy, culinary art and hospitality go hand in hand. Italian food has a way of warming the soul and bringing a family together. Don't miss out on an opportunity to immerse yourself in one of the most vibrant food cultures in the world. Its appreciation for authentic and simple ingredients, combined with the aesthetics of a beautiful food presentation, is what makes it a top choice of food and wine connoisseurs in any country. One of the most important factors in hosting a successful wedding is providing a delicious meal to your guests. Italian food has a way of warming the soul and bringing people together. Over the years, we have come to select some of the most refined Italian restaurants operated by renowned chefs and restaurateurs that value a contemporary twist on the Italian culinary traditions, as well as lesser known but equally delicious smalltown trattorias.
At Three Tomatoes Italy, a delicious and exquisitely executed meal is at the heart of everything we do. Through 40 years of service at our American-based catering company, we have learned the pivotal role a meal plays in making an event feel like home. We will work with you to create a menu that fits both your wedding style and guests preferences. Whether you seek an international menu that caters to the various taste buds of your guest list or you want to bring your favorite American classics abroad, let our team help you work out the details.
From menu and wine selection, to designing the perfect wedding cake, we will work with you to create a custom culinary experience that speaks to who you and your loved-one are as a couple. Your culinary experience in Italy will not begin and end with dinner at your reception, however. From bridal showers and rehearsal dinners to pre-wedding cocktail hour and post-wedding brunches, we will ensure that every flavor to hit your palette is a pleasurable one.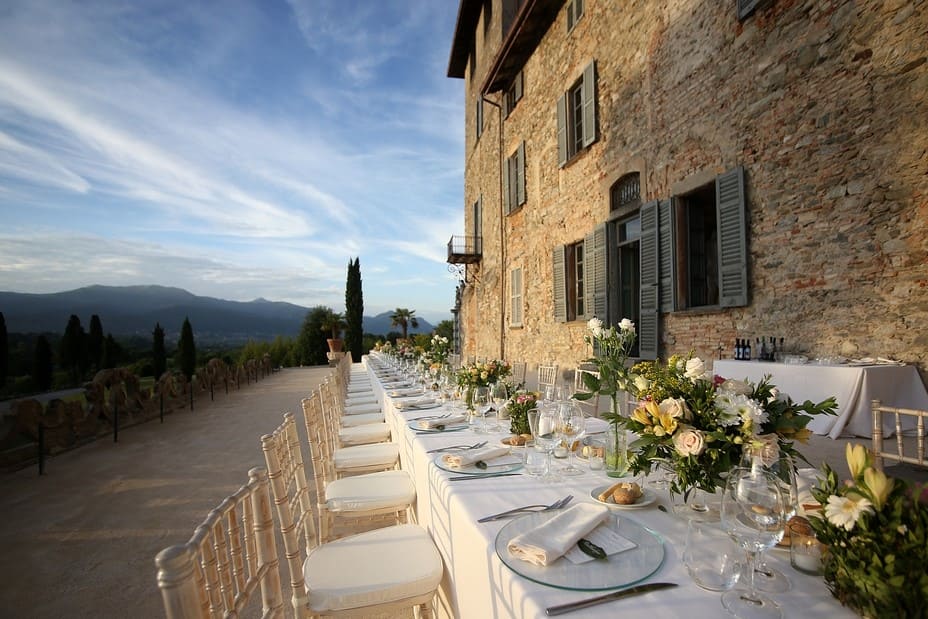 Cultural Experience
When we ask our couples living in the US about why they want to host their engagement, wedding, or honeymoon parties in Italy, they always answer, "because it's a beautiful country and a cultural experience!" We provide couples and their guests with professional planning for an array of experiences, excursions, and visits to get in contact with and enjoy the most significant Italiant history and culture.
The country of Italy has endless opportunities for exploration. Whether our couples and their guests are seeking adventure through horseback riding, boat cruises, and bike tours, or a more cultural experience with museums, historical tours and castle visits, we will make all the arrangements. If a maritime adventure is what you seek our experienced staff can make the preparations for your voyage. Aboard a comfortable sailing boat, well taken care of by the crew, you and your special someone can share a romantic getaway with sunset aperitifs, guided tours of the places you dock, and private dinners to get you off the tourist track. Perhaps a pre-wedding wine tasting in Tuscany or a post wedding shopping trip in Milan suits you. Three Tomatoes Italy will manage the entire process from start to finish.
Organizing a wedding in Italy should also be an opportunity for you and your guests to visit such a unique country. Italy is globally renowned for its history, contemporary design, fashion, architecture, elegance, beauty, hospitality, and cuisine. At Three Tomatoes Italy, we provide full planning for any customized visit in every part of the Italian territory, from the Alps to Sicily, including renowned cities such as Milan, Venice, Florence, Rome, Naples, as well as the most unique secret gems. After travelling across the globe it is unlikely you and your guests will simply turn around and go straight home to the US upon the conclusion of your wedding. From wine tastings and shopping trips in Milan, to gondola rides in Venice and fishing expeditions off the coast; we will make your experience one to remember.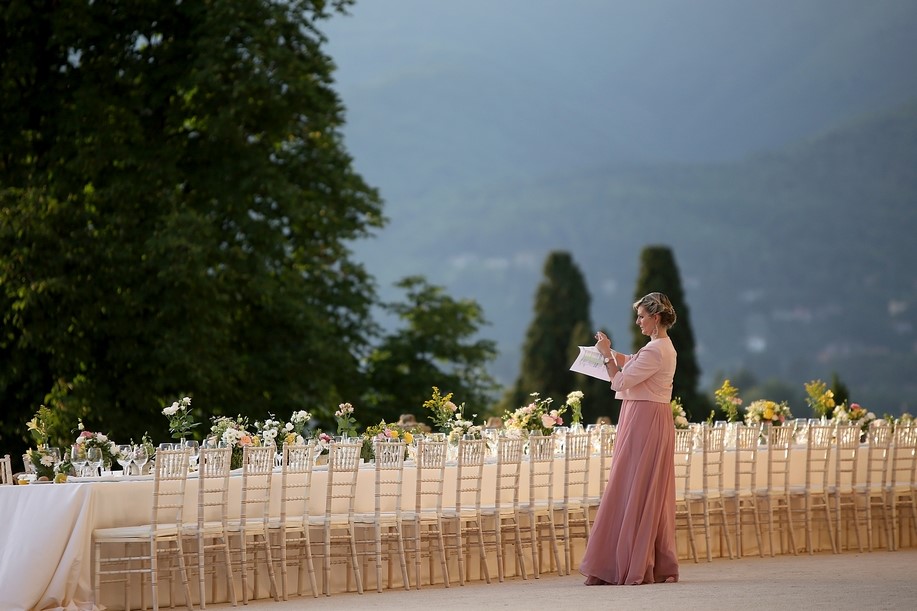 Transportation and Logistics Planning
Our couples and their guests will be able to rest easy and enjoy their surroundings knowing that transportation and logistics have been impeccably planned by our team. Securing transport and organizing a wedding across the ocean is time-consuming and can present logistical challenges. Flight scheduling, airport pickups and drop offs, venue and excursion transport, as well as accommodation booking will be 100% managed by our team when you choose Three Tomatoes Italy.
All of the preparation and "behind-the-scenes" activities are the foundation for allowing a great wedding to develop. This is why understanding how to plan and solve any logistical wedding planning issue is critical. In this area, we at Three Tomatoes Italy really excel. Taking care of international transportation, accommodations, and securing goods and people to move from one country to another is one of our main tasks as professionals. We plan and organize all logistical elements of your special day, taking over all "to-do" items, allowing you to feel like a guest at your own wedding. Our solid experience in this field allows us to prepare and anticipate possible border customs and language barriers. All of our logistics prioritize the safety and comfort of you and your guests so that your wedding is as unforgettable as a fairytale.
Whether you are concerned with the physical security of a location or the privacy of a high profile guest, we will ensure that the proper precautions are taken. We will take into consideration things like venuelocation and internal layout, security personnel requirements, credentialing, and availability of emergency medical services. We understand the laws and regulations of this beautiful country, its customs, culture and mentality. It's in between these factors, that a gap between visitors and locals may lie, and we are here to prevent any such issues from happening. Our expertise will prevent any issue with these type of matters, allowing you and your guests to enjoy the best that Italy has to offer.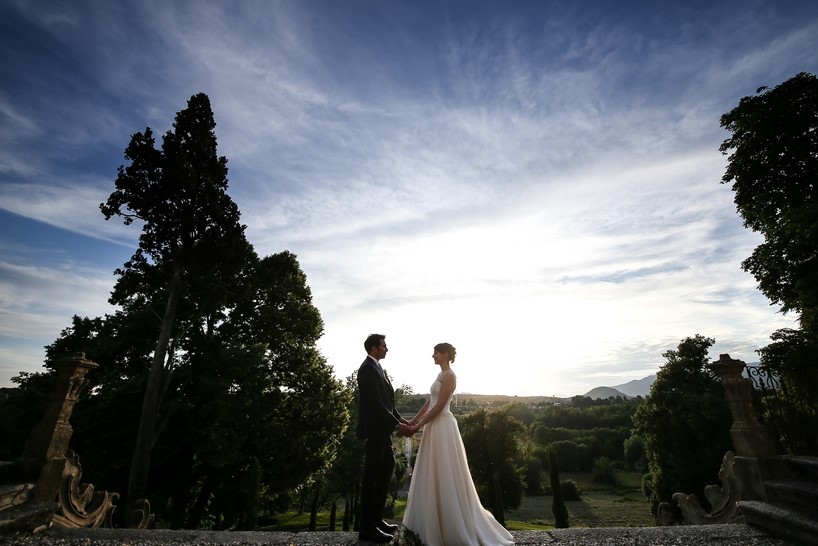 Discretion & Privacy
On the day of your wedding in Italy, you and your guests want to enjoy a high level of special attention and care without impact from anything outside your circle of your selected loved-ones. This is why discretion is paramount. Privacy is a custom and concept that changes its form from country to country; this is why our couples benefit from the assistance of experienced wedding professionals like us at Three Tomatoes Italy that know how to translate the cultural differences, needs, and wants of our American couples during their stay in Italy.
With years of experience working with high-end clientele, discretion is something we practice routinely. We understand that your wedding is an intimate affair to be shared by you and your loved ones. We want you to feel secure and comfortable knowing that your memories will be yours and yours alone. Call on our Three Tomatoes Italy team for worry-free wedding planning.
"The opportunity for me and my team to let you experience the great joy of my homeland of Italy is one that must be shared. It is through creating authentic, memorable experiences that we now make your dream wedding come to life."

– Riccardo Mazzeo CEO & Owner, Three Tomatoes Italy