Skip to Content
Our Passion. Our Craft
CATERING & EVENT SERVICES
Whether you require an enchanting wedding, a lavish sit-down dinner for hundreds, an intimate dinner party, a stylish gala, or a large sporting event, Three Tomatoes is your first choice.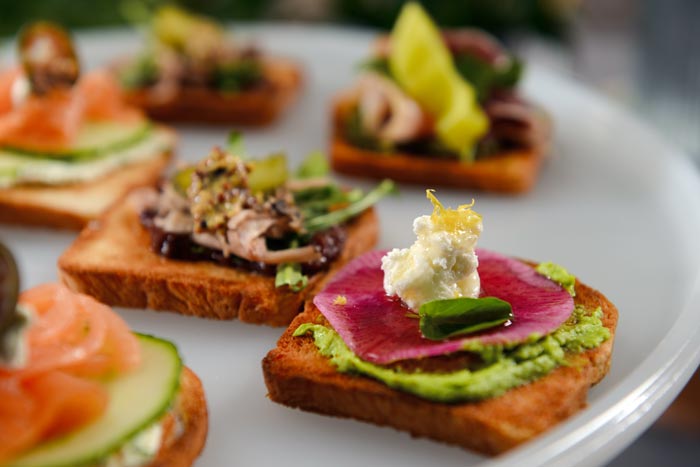 OUR EXPERTISE
Three Tomatoes has earned the reputation as a creative caterer and event planner by delivering hand-crafted experiences. Whether you are planning a business luncheon, wedding, country jamboree, arts gala or a five-star sit-down dinner, we can make your event a success.
We put our knowledge and creativity to work to make your event all you hoped for. We help take care of every detail, every flavor, and every step is treated with a responsive, professional attitude shared by everyone at Three Tomatoes Catering.
GET STARTED
Please fill out the form below to get information and quotes about your next event. One of our Event Planners will reach out to confirm your inquiry. Thank you!
TESTIMONIALS
I had the pleasure of working with Three Tomatoes Catering 2 weekends in a row this September as two of my clients had booked them for their weddings. Both events were very hands one, but also very different. Three Tomatoes managed both my clients exceptionally! They were responsive, their staff was beyond qualified and were clearly there to help! They were always upbeat, and took pride in their service. I am thrilled with both of my experiences and can't wait to work with them again in the future!
Three Tomatoes helped make our Wash Park Boathouse wedding a total dream. Natalie was THE most wonderful partner, working within our budget and providing the most superb end-to-end customer experience. Not only were the food and service fantastic, but during the planning process Natalie asked all the right questions and thought of things we never would have considered. I truly recommend working with Three Tomatoes for your wedding -- it definitely helped reduce our stress knowing they were on board with us.
Working with Three Tomatoes was a terrific experience. My wife and I were really concerned about the food quality and presentation during our wedding. Natalie took great care of us from the time we were prospects still deciding on a caterer to the main event. Service was excellent, the presentation was excellent, and the food was epic. We still get comments about it from our guests! Can't recommend them highly enough.
As a manager of Rembrandt Yard Art Gallery & Event Center in Boulder, we are happy to have Three Tomatoes Catering on our preferred catering list. Professional and friendly staff, delicious food, and great presentation!
Ackmann & Dickenson, North Washington Avenue, Minneapolis, MN, United States