Skip to Content
Large-Scale Event Planning & Party Catering in Denver, CO
Any Venue, Any Event: Three Tomatoes Catering Is Here for You
In business since 1977, Three Tomatoes Catering has seen and catered everything from festivals and concerts to fundraising galas and corporate conferences. We have a proven record of creating memorable menus and impressive events for an elevated customer experience. If you need large-scale event planning and party catering in the Denver, CO area, we can help you create an event that suits your goals, budget, and preferences. Thanks to our decades of expertise, we have connections with influential vendors to help you find the right décor, lighting, and dining options so your event goes off without a hitch. We can cater any event in any setting, from private homes and corporate offices to community parks, art galleries, museums, libraries, and sports venues. Leave all the planning, catering, and even crowd control details to our experienced team today!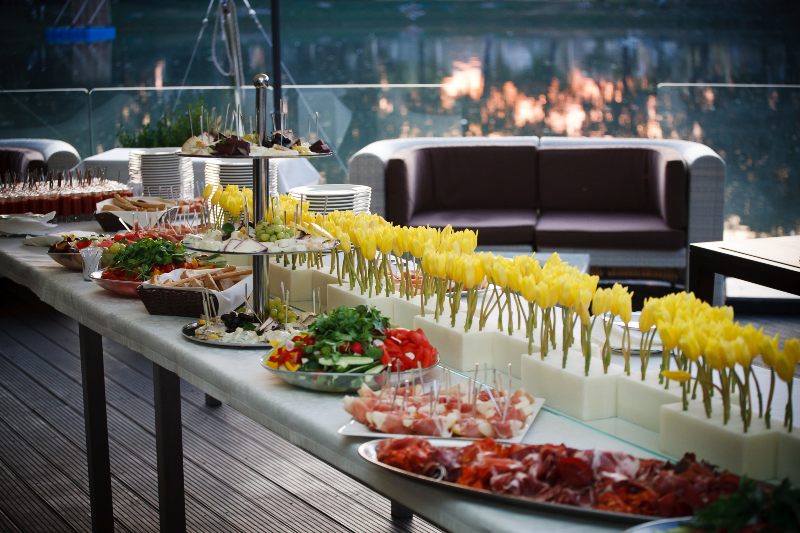 What Are the Benefits of Working With an Event Planner?
Whether you're planning an expo or a wedding, working with an event planner makes life easier. Event planners specialize in organization and getting things done on time and on budget to ensure every detail of your event is perfect. Overseeing the hundreds of little details when planning an event can be overwhelming and stressful. Hiring an event planner can help you bring your creative vision to life with fewer hassles and headaches. Three Tomatoes Catering offers comprehensive event planning services for lavish, large-scale events, both public and private. Over time, we've cultivated relationships with some of Colorado's best vendors to ensure you have access to the best theming elements, lighting options, floral arrangements, entertainment, and more. Thanks to our talented food artists, your event's food and drinks will never be an afterthought. Let us help take your large event to the next level.
Catering for Large Groups and Various Special Occasions
Three Tomatoes Catering specializes in catering for large groups at various events and venues throughout Colorado. Feeding a frenzied crowd isn't always a picnic, but it's hassle-free when choosing an experienced catering company like ours. While you could order takeout for your event, catering offers a higher quality of food because it's made using fresher ingredients. Our chefs have experience handling special dietary requests and food allergies. If you need gluten-free, vegetarian, or Kosher-style foods on your menu, it's not an issue. Our team also has the expertise to manage crowds while ensuring the best event layout to limit food lines to keep your guests happy. Rely on us for all your large group catering needs, including the following:
Birthday Catering Services – From birthdays to engagements and anniversaries, we specialize in planning private soirées in style. Birthday party planning with a themed menu is easy when you rely on our professionals. Whether it's an adult's or kid's birthday party, you won't have to worry about your guests having enough to eat or drink. We'll take care of topping everything off, so you can relax and enjoy the festivities. After all, birthdays only come once a year!
Wedding Catering Services – Choosing the right wedding catering services for your reception and rehearsal dinner can help ensure your celebration is something people speak positively about for years. Whether you want your wedding day to be country chic or classically elegant, we can help you achieve your desired look and feel with a customized menu and décor. We'll ensure your guests are given the VIP treatment, as everyone enjoys the BEST food and drink.
Business Catering Services – From conferences, seminars, and board meetings to galas, team-building events, and company parties, we have your business catering needs covered. Our delicious food and drink will keep your employees and clients satisfied and engaged during the event. Let us handle all the menu and event details, so you can focus on getting down to business. Our business catering services will help you make a lasting, favorable impression.
Our Approach to Large-Scale Event Planning & Party Catering
When you collaborate with Three Tomatoes Catering for your large-scale event, everything from the entertainment, florals, and décor to specialty lighting, audio/visual equipment rentals, and food menus are managed by our seasoned experts. We can customize everything to your preferences to exceed expectations with our attentive customer care and all-inclusive packages. We'll be there for you from event setup to cleanup, handling all the logistics leading up to and during your event for a seamless experience. Service is our specialty, and we train our staff to be courteous and professional. Whether you need bartenders, wait staff, or onsite vendor management, we'll ensure every aspect of your event is coordinated perfectly. Have a special request? No problem. All you have to do is ask, as we give every event our personalized attention to detail. So, sit back and enjoy your next big event – we've got this!
Why Choose Us? Advantages of Using Three Tomatoes Catering
At Three Tomatoes Catering, large-scale event planning and catering are our specialties. For over 40 years, thousands of clients have entrusted us with some of the most memorable moments of their lives. That's a responsibility we don't take lightly. Every day, we put our creativity and passion to work to create unique, hand-crafted events and flavorful food menus. We also provide food deliveries seven days a week. Our clients can customize event menus to suit their needs, preferences, and budgets. Whether you choose our elegant plated options or buffet-style catering, our chefs use fresh, local ingredients that are seasonally available for an unforgettable, elevated farm-to-fork experience. We encourage prospective clients to view our gallery to get inspired by the possibilities for tasty hors d'oeuvres, signature cocktails, and decadent desserts at your next gala, festival, or corporate event.
Savor the opportunity to work with one of the area's top catering companies. First-class service starts with maintaining an excellent staff, and we're proud to employ some of the best in the business. You can count on us for top-notch customer care and flawless events down to the last detail. View testimonials from past clients to see why we're preferred by many clients looking for catering for large groups in the Denver Metro Area. We can help you make the most of your next large-scale event by ensuring everything is exactly right.
Need Large Party Catering in the Denver Area? Contact Us!
Three Tomatoes Catering is available for large party catering in Denver and surrounding communities, including Aspen, Boulder, Colorado Springs, Estes Park, Ft. Collins, Telluride, and Vail. Get an instant catering quote and make changes to your order using our convenient online booking system. It's easy to use and fulfills our mission of offering full price transparency to our customers. From your initial online booking to the day of your event, we're here to assist you in any way we can. We can make our event planning and catering services fit any budget, so contact us today to get started with our team!