Skip to Content
Catering for a Holiday Party in Denver, CO
Rely on Three Tomatoes Catering for Party Food Catering Needs
'Tis the season for festive holiday parties and family gatherings with colorful décor and delicious food. If you want to enjoy a hassle-free holiday party this year, Three Tomatoes Catering is one of the most experienced and trusted party catering companies in the Denver Metro Area. We do everything from planning tasty summer barbeques and Labor Day company picnics to holiday catering for Halloween, Thanksgiving, Christmas, and Hanukkah. We can help you customize your perfect party food catering menu with elegant plated and buffet-style options available. Talk to us today to begin discussing catering for your next holiday party in Denver or a surrounding Colorado community!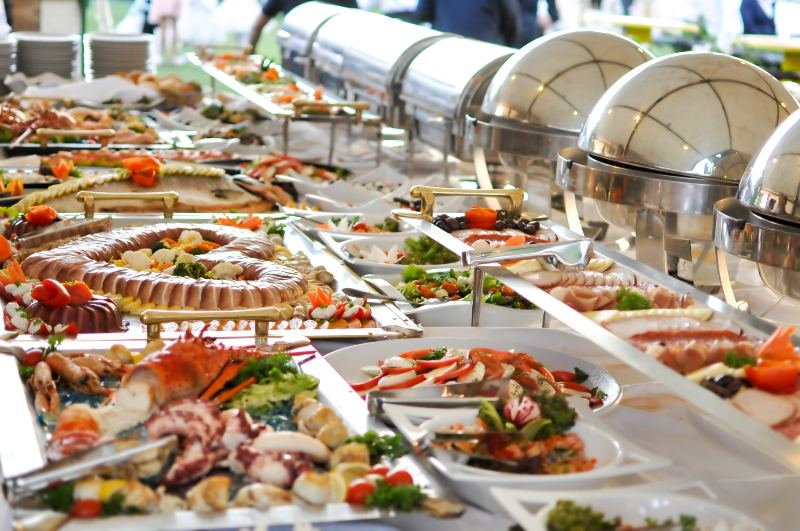 From Birthdays to Holidays: Types of Parties We Cater
From birthdays to Valentine's Day, the Fourth of July, and Christmas, holidays and other celebrations bring people together. While we enjoy seeing family, friends, and co-workers face-to-face, many of us would consider the merry food and drink as the heart of these gatherings. People bond over food. Communal meals have been around since ancient times and represent various things in different cultures. Breaking bread or toasting champagne with someone else makes you feel closer, no matter your relationship. Eating familiar favorites evokes pleasant personal or shared memories for many, while others enjoy feeling adventurous and exploring new dishes with their loved ones. Whether you're looking for catering for a corporate holiday party, non-profit gala, or private holiday gathering, Three Tomatoes Catering can accommodate your needs with our attentive service and flavorful food menus.
Explore and Customize Our Party Food Catering Menus
Three Tomatoes Catering would love to make your next holiday gathering feel like a festive feast with our high-end party food catering options. Our catering company uses fresh, high-quality ingredients to create dishes that are as visually stunning as they are mouthwatering. We have many delicious dishes and drinks available on our diverse food menus. From plated foods to family-style buffets, we offer many catering options for any party size and budget. We cater anywhere a caterer is allowed, including private homes, corporate offices, community parks, and large-scale event facilities.
Our food artists can prepare and serve gluten-free, vegetarian, and Kosher-style foods to accommodate any menu. We would be happy to help you customize your ideal holiday party catering menu based on seasonal availability. Whether you want us to whip up something new or recreate your family's favorite recipes, we pride ourselves on flexibility. Popular items to add to your holiday menu include signature cocktails, savory appetizers and finger foods, succulent beef, chicken, and fish entrees, and decadent desserts. You choose the event's theme and venue, and we'll handle the food.
What to Expect From Our Holiday Party Catering Services
Don't spend your entire holiday in the kitchen when you can rely on our professional party catering services to entertain you and your guests with lively food and drink. In addition to catering and food delivery services, we also provide full event planning services, handling everything from the music and entertainment to security and transportation. We're with you from event setup to cleanup, with chefs, service staff, and even bartenders available to assist with your holiday gathering. Ask about our All-Inclusive Packages that include food, service staff, and rentals (flatware, glassware, linens, tents, etc.) for a set price for the ultimate peace of mind that your holiday party will be a hassle-free experience!
Why Choose Three Tomatoes Catering for Your Party?
Three Tomatoes Catering would be honored to be your trusted holiday caterer this season. Established in 1977, we have several decades of catering experience to ensure your party is a resounding success. We specialize in creating memorable menus for events ranging from elegant corporate holiday parties and weddings to simple birthday party catering for families. We're one of the first Denver Metro Area caterers to offer an online booking system to make getting everything you need for your event quoted accurately and conveniently within minutes. As a leading local catering company, you can depend on our impeccable customer service. We listen to our clients to help turn their creative visions into reality.
Contact Us to Request a Party Catering Services Quote
While Three Tomatoes Catering is a Denver-based holiday catering company, we can travel to other Colorado communities if the budget is right. Whether you need catering for a corporate holiday party or catering for a kids' party, contact us today to receive a catering quote from our seasoned professionals. You may also request an estimate and book our catering services online from the convenience of your home. Getting a party catering estimate on our website is quick and easy, allowing you to instantly customize your menu options to see how this affects your price per person. We'll work with you to finalize the event planning process to the smallest detail, so reach out to our talented team today!