Skip to Content
Book Online for a Catering Services in Denver, CO
Rely on Three Tomatoes Catering's Convenient Online Options
Online food ordering has revolutionized the food industry in recent years. Streamlining the ordering process makes it easier for customers to connect with the restaurants they love from the comfort of home. This has expanded beyond restaurant curbside pickup orders during the pandemic to include the catering field. Three Tomatoes Catering is proud to be at the forefront of technology by offering convenient online catering options. Selecting catering for a party in the Denver, CO area is a breeze with our easy-to-use booking system. We specialize in catering and event planning for various special occasions, including weddings, corporate events, non-profit galas, and more. Whether you're looking for an elegant plated catering option or buffet-style catering, try our online booking options today.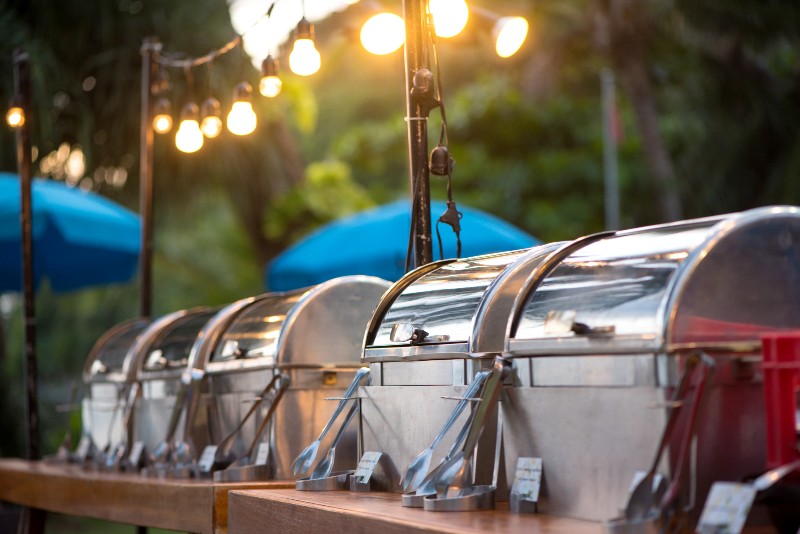 The Importance of Online Booking for Catering & Event Planning
Online booking capabilities allow catering companies to offer an added layer of customer service. Savvy caterers such as Three Tomatoes Catering are expanding and integrating the latest technology to create an elevated customer experience. We love being able to reach out to our customers directly and having them interact with us from the convenience of their smartphones. Online booking systems such as ours have changed how customers place orders. You can view our menus, food descriptions, and mouthwatering images of our delicious food, all before placing your next catering order online.
Say Goodbye to the Challenges of Traditional Booking Methods
Traditional booking methods for catering services were lengthy and limited in their capabilities. When placing an order over the phone, errors could happen depending on background noises and distractions. We all know humans make mistakes sometimes, so some of the details on a catering order could be entered incorrectly into the computer by the catering business representative. Online booking methods have smoothed out the kinks in the ordering process to make today's catering orders more accurate. Customers can now confirm details of their catering orders in real time without waiting on confirmation emails or calls from a representative. All of this translates into a better customer experience for you!
Explore Benefits of Online Booking With Three Tomatoes Catering
Thanks to our company policy of providing quality, reliability, and convenience for our customers, Three Tomatoes Catering was one of the first Denver catering businesses to adapt this exciting technology. You can choose and customize everything for your next event with an all-inclusive set price per person within minutes by using our online booking system. Explore the numerous benefits of booking our catering services online for your next special event, which include the following:
Convenience – You won't have to make tons of phone calls, wait for catering quotes, and then wait for a re-quote if you need to customize something about your order. You can instantly change your catering order in real-time to see updated catering quotes. Online booking offers quick, precise menu estimates.
Higher Order Accuracy – You're in direct control of your catering order, so there are fewer chances for input errors from our team. After submitting your initial order, you can also easily change it online. Charges are automatically adjusted.
Price Transparency – We're dedicated to providing you with total price transparency. All prices reflect sales taxes and admin and transportation fees. We publish menu prices and descriptions online. Since you're selecting everything you need when ordering, there will be no misunderstanding about your event's budget.
Advanced Orders – An online booking system allows you to place your catering order well before your event. You can also return to tweak the menu according to your guests' needs. Changes to your order are permitted up to 10 business days before your event date.
More Menu Flexibility – Online ordering gives you more flexibility when exploring our menu options. You can personalize your all-inclusive package by selecting the food options you want, from plated catering or buffet catering to whole-food deliveries. Whether you need catering services for a wedding or cocktail party, the sky's the limit with our creative menus!
How to Use Three Tomatoes Catering's Online Booking System
Have we piqued your interest in trying our online booking system? Requesting catering for a party is easy and user-friendly with Three Tomatoes Catering. Once you determine which catering services you desire from our drop-down menu, you're minutes away from receiving your customized catering quote. Read the descriptions, view images, and click on the menu items you wish to add to your catering order. Simply select one of the following categories to get started:
Need Catering for 100 People? No Problem – Contact Us Today!
Established in 1977, Three Tomatoes Catering is one of the top catering companies in the Denver Metro Area. Thanks to our decades of expertise, you can count on us for a sophisticated catering experience and attentive customer care. Whether you need catering for 100 or 10, we can customize our catering and event planning services to suit any budget and occasion. We're based in Denver, but we can also provide catering services elsewhere in Colorado, including Ft. Collins, Colorado Springs, Aspen, Estes Park, and many other points along the Rockies. Contact us today to discuss your next event's details!