Skip to Content
Gala Dinner Planning in Denver, CO
Creating an Unforgettable Experience with Three Tomatoes Catering
Welcome to Three Tomatoes Catering, your partner in creating remarkable gala events in Denver, CO. Are you tasked with planning a non-profit gala or charity event and want to make it a resounding success? Look no further! This blog post will guide you through the key elements of gala event planning and how Three Tomatoes Catering can bring your vision to life.
Overview of Non-Profit Gala Event Planning
Non-profit galas are prestigious events that serve as a platform to raise funds and awareness for a cause. These galas are glamorous affairs and powerful tools for charitable organizations to make a positive impact. Planning a successful gala requires careful attention to detail and a comprehensive approach. At Three Tomatoes Catering, we understand the significance of these events and the importance of creating an unforgettable experience for your guests.
Defining Non-Profit Galas and Their Purpose
A non-profit gala is a formal gathering that brings supporters, donors, and community members together to celebrate a cause and contribute to its mission. These galas often feature keynote speakers, live entertainment, auctions, and other fundraising activities. The purpose of a non-profit gala extends beyond the event itself; it aims to generate substantial funds to support the organization's initiatives and create lasting connections with potential donors.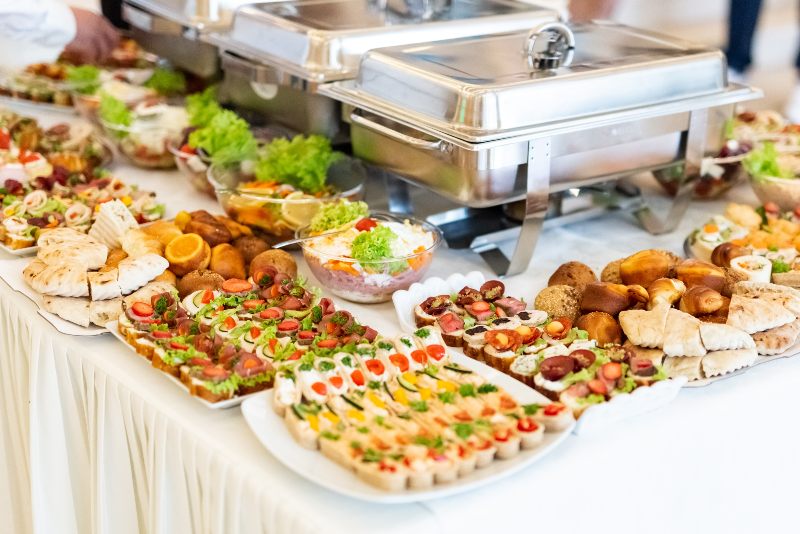 Venue Selection and Decoration
Choosing the right venue sets the stage for a successful gala. Whether it's an elegant ballroom, a picturesque outdoor space, or a unique cultural venue, the location should align with your envisioned theme and atmosphere. Our experienced event planners will work closely with you to understand your preferences and recommend suitable venues in Denver, CO. Additionally, captivating decorations can transform any space into a captivating and immersive experience. From stunning centerpieces to lighting designs that set the mood, our team will create a visually striking ambiance that captures the essence of your gala.
Fun and Festive Options
To make your gala truly memorable, consider incorporating fun and festive options that engage your guests. Photo booths, interactive entertainment, and engaging activities can enhance the overall experience and create lasting memories. Our team can provide a range of entertainment options tailored to your event, ensuring that guests are entertained and enthralled throughout the evening.
Catering and Menu Selection
A gala dinner is an opportunity to indulge your guests with exquisite cuisine. Our expert chefs and culinary team will craft a customized menu that reflects your theme, satisfies diverse palates, and showcases the highest quality ingredients. From delectable hors d'oeuvres to elegant multi-course meals, our catering services will leave a lasting impression on your guests' taste buds. At Three Tomatoes Catering, we offer various menu options, including vegetarian, vegan, and gluten-free, to accommodate all dietary preferences and restrictions. We prioritize culinary excellence and will work closely with you to curate a menu that exceeds expectations.
Unforgettable Gala Experiences: Elevate Your Event with Three Tomatoes Catering
You can expect nothing but the best when you choose Three Tomatoes Catering for your gala event. Our dedicated team of event planners will be by your side throughout the planning process, ensuring no detail is overlooked. From selecting the perfect venue to coordinating entertainment and decor, we will work tirelessly to bring your vision to life and create a truly remarkable experience for your guests. At Three Tomatoes Catering, we take pride in delivering unparalleled service. Our experienced staff is committed to going above and beyond to exceed your expectations. From the moment you reach out to us for an initial consultation to the final execution of your gala, you can rely on our professionalism, attention to detail, and personalized approach. We understand that your gala is a reflection of your organization, and we are dedicated to ensuring that every aspect of the event is executed flawlessly. Our talented chefs are masters of their craft, and they will create a culinary experience that delights and impresses your guests.
We source the finest ingredients, focusing on quality and freshness, to deliver outstanding flavors in every bite. With an emphasis on presentation, our culinary creations are as visually stunning as they are delicious. From sophisticated hors d'oeuvres to decadent desserts, our menu options can be customized to suit your preferences and dietary requirements. At Three Tomatoes Catering, we understand that each gala is unique and are committed to providing customized solutions. We will tailor our services to your needs, preferences, and budget. We aim to ensure that your gala event reflects your organization's mission and vision while creating an unforgettable experience for your guests. You can trust us to listen to your ideas, offer expert advice, and bring innovative solutions to the table. Contact us today to begin planning an extraordinary gala that exceeds your expectations and supports your charitable cause.