Skip to Content
Corporate Events Help Grow Your Denver, CO Company
Discover the Common Types of Corporate Events
Each business measures success differently. There are many ways to help your business achieve its goals, including lead generation, increased market share, and monitoring profits. One unique and exciting way to help your business achieve its objectives is by hosting a corporate event. There are numerous corporate events for prospective clients, market leaders, and employees, each providing their own value to your company. Fortune 500 companies and small local businesses plan millions of corporate events annually. Learn more about the common types of corporate events and how they can be leveraged to help your business. As a full-service corporate event planner in Denver, CO, Three Tomatoes Catering can help you plan your next event, monitor its success, and create a memorable experience for you and your guests.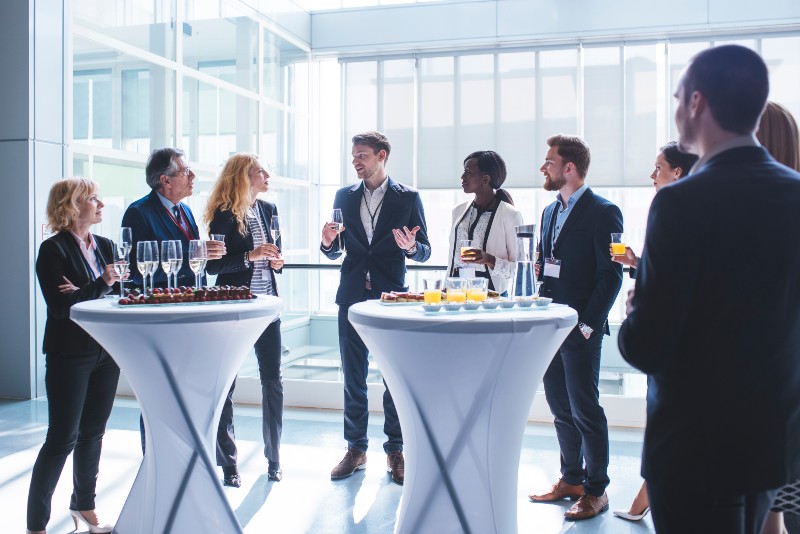 What Are the Different Types of Corporate Events?
One of the most critical aspects of your corporate event is identifying its goals and objectives. Whether you're trying to recruit the top talent for employment, celebrate a company milestone, or introduce a new product to the market, understanding the "why" of your corporate event will better inform the type of event you're hosting. There are numerous corporate events held in venues large and small. Learn more about the common types of corporate events and discover which one is right for your business:
Round Table Discussions – A round table discussion allows multiple thought leaders inside and outside of your organization to discuss important topics regarding your company and the industry, including challenges, trends, and new initiatives.
Private Parties – Make a stunning impression on prospective clients with an invite-only event.
Team-Building Events – Boost employee morale, improve retention, and celebrate your employees' wins while helping to create a positive company culture. Team building events can include any number of activities, appetizers, dinners, and desserts.
Board and Shareholder Meetings – Bring your company's board members or shareholders together to discuss important topics regarding the trajectory of your business, its successes, and future initiatives. Depending on the size of your board, renting a venue and catering will be a major consideration.
Wellness Events – Wellness events are designed to help improve employees' sense of purpose and overall mental health. They require unique vendor considerations.
Customer & Client Events – A corporate event is an excellent way to cultivate relationships with current and prospective clients or show appreciation to your employees for a successful quarter.
What Are the Benefits of Corporate Events?
A well-planned and organized corporate event delivers numerous benefits to the organization, employees, and clients. It's essential to identify the event's purpose and consider how to measure the event's success in the pre-planning stages to ensure it aligns with your objectives. Some of the most common benefits of planning a corporate event involve the following:
Employee Retention – One of the most effective ways to improve employee retention and satisfaction is by holding corporate events. A corporate event allows employees to meet face-to-face in a fun and relaxing environment while building positive personal and professional relationships. Cultivating a community helps strengthen your workforce.
Brand Recognition – Whether you're trying to promote a specific product, transform your brand identity, or simply get more eyes on your company as an industry leader, a corporate event can help create a lasting impression. Create significant buzz for your upcoming announcement and improve your stake within the market space.
Celebrate Successes – Award ceremonies and celebrations of company achievement help create a community among your employees, leading to improved happiness and productivity.
Attract Customers – Are you searching for an impactful way to expand your reach and generate new leads? Making a stellar first impression with a corporate event may be the best option. A corporate event is a relaxing and fun way to create a platform to discuss how your company can help their business and get them excited about becoming a client.
Learn Why More Companies Choose Us for Corporate Catering
Three Tomatoes Catering provides exceptional corporate event planning and catering services for companies throughout Denver, CO and the surrounding community. Whether you're hosting a small corporate function with dozens of employees or a large product launch and gala with hundreds of guests, you can count on our team to ensure your event is exactly how you envisioned. Our end-to-end event planning services include everything from venue selection, catering, vendor scheduling, and more. Speak with one of our event planners today to discover how we can help create a memorable experience to help grow your business. Get your free consultation today.